The #1 Guide to Living in Downtown Chicago [2021 Edition]
Posted by Ted Guarnero on Tuesday, June 29, 2021 at 12:49 PM
By Ted Guarnero / June 29, 2021
Comment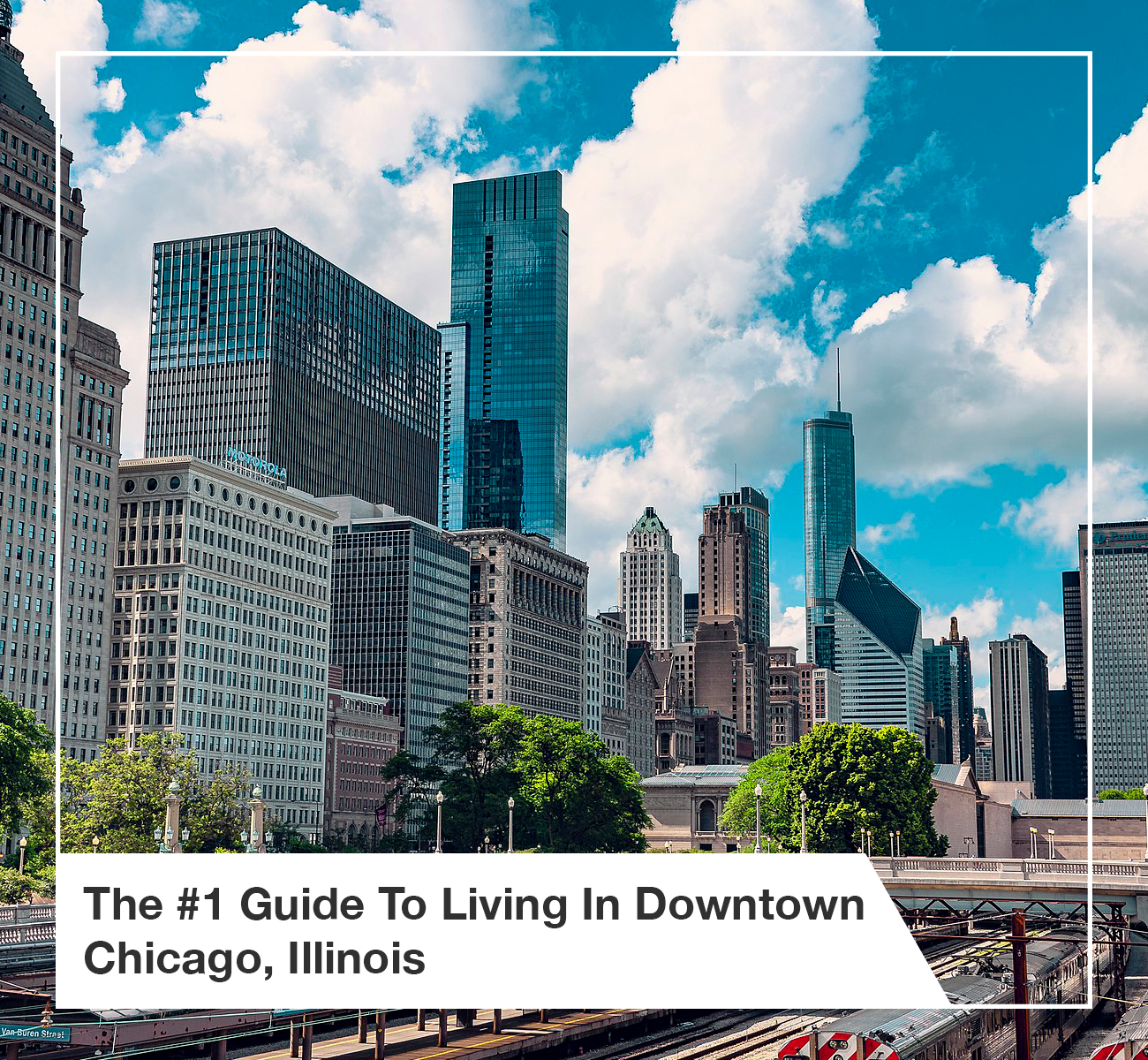 Moving to downtown Chicago is an exciting adventure. You will always find something new to explore for as long as you make Chicago your home. After all, this busy city area offers abundant beauty, convenience, and a diverse array of community features. In fact, there is no place on earth quite like Chicago, and the downtown area is even more impressive.
This guide provides a look at what living in downtown Chicago has to offer you and your family. Here, you will discover excellent neighborhoods, fascinating things to see and do, and a world of dining options. So, sit back and enjoy this brief view of the best of this Midwestern gem.
History of Chicago, Illinois
Most historians believe that Chicago's name came from a Miami Indian word meaning "onions" or "leeks," which grew wild along the riverbanks there. Yet, from this humble beginning, a settlement sprang up, which was destined to be a world-class city and the largest urban area in the Midwest.
When Jean Baptiste Point du Sable came to the area in 1780, he became the first non-indigenous settler and is now considered the founder of Chicago. The settlement grew rapidly and was incorporated as a town in 1833 and as a city in 1837. With the addition of grain elevators and the advent of their Board of Trade's grading standards for wheat, Chicago became the largest grain port in the world by 1848.

Although in 1871, a third of the city was destroyed by a massive fire, Chicago was quickly rebuilt. A center for new national retail giants, the city became the home of the first skyscraper in the world. In 1893, millions flocked to the city for the World's Columbian Exposition. After a period of civil unrest and the emergence of strong labor unions, the city grew to a population of three million by the 1930s. For a time after that, the population decreased. However, by the 2000 U.S. Census, the city was growing again. Now, Chicago has become a modern, technologically advanced hub of international commerce and industry.
Chicago Neighborhoods
One of the most difficult choices in moving to Chicago or any other city is deciding which neighborhood is best for your family. Fortunately, downtown Chicago has many fine neighborhoods, each with its own character and features.
Gold Coast
The Gold Coast Chicago neighborhood is known as one of the most affluent and luxurious neighborhoods in the U.S. Located along the shore of Lake Michigan; this area has much to offer people moving to Chicago.
Historic mansions line the beautifully manicured city streets throughout the area. Rows of 19th Century homes define the Astor Street District, with a variety of revival-style structures. Other magnificent buildings, like the Charnley-Persky House and the Former Playboy Mansion, display the extravagant nature of this beautiful neighborhood.

Some of the exciting things to see and do in the Gold Coast Chicago neighborhood include the International Museum of Surgical Science and Washington Square's Newberry Library.
View All Homes For Sale In Gold Coast, Chicago >>>
Streeterville
The Streeterville Chicago neighborhood is filled with fast-paced activities and everything that is good about city life. The hottest properties in the area are luxury condo high-rises and townhomes. Found along the downtown shoreline, Streeterville is at the heart of the action. In the south and east of the neighborhood, a more easy-going vibe takes over. Yet, throughout Streeterville Chicago, there are so many activities to keep you busy.

The Navy Pier is perhaps the most popular attraction in all of Chicago, with everything from a huge Ferris wheel to a Children's Museum. Shopping on the Magnificent Mile is within easy reach, or you can spend your day exploring the Museum of Contemporary Art. With gorgeous parks, challenging trails, and urban beaches like Ohio Beach, this area offers nearly any outdoor activity you might like.
View All Homes For Sale In Streeterville, Chicago >>>
River North
River North Chicago, located north of the Chicago River and the Loop, offers an energetic social climate and fast access to countless activities. Getting around the neighborhood is simple, with easy walking, quick access to Chicago highways, and a great public transit system. Several notable brand names are headquartered here, including ConAgra, Yelp, and Groupon. Homes in this Chicago neighborhood include Victorian-era single-family homes and luxury high-rises.
Here, you are close to Chicago's shopping mecca, the Magnificent Mile, and the nearby Richard H. Driehaus Museum. The Gallery District is spectacular, with a vast variety of art. In this neighborhood's Marina City, you will find the House of Blues, Chicago, an iconic venue. The Design District features numerous showrooms filled with building features and furnishings of every sort.
View All Homes For Sale In River North, Chicago >>>
The Loop
At the heart of Chicago, the Loop is an iconic blend of culture, shopping, and humming city life. The neighborhood stretches from the Chicago River on the north to Ida B. Wells Drive on the south and Lake Michigan on the east. You can experience the beauty of its buildings on a Chicago Architecture Foundation Center River Cruise. Housing options in this neighborhood include high-rise condos and lofts.
Millennium Park in the Loop Chicago neighborhood features the elegant Lurie Garden, and Jay Pritzker Pavilion is the place to go for blue and jazz festivals. Check out the Art Institute of Chicago while you are there to experience one of the most renowned art museums in the world. The Chicago Cultural Center, with its many events and exhibits, is also located in the Loop. Or go to the top of Willis Tower, where you can stand on the Skydeck and view the city below. The Loop is also home to Chicago's Theatre District, with top-rated theatrical productions in several large theaters.

Among North American business districts, the Loop is the second largest of all. That means there are not only many career opportunities but also an almost endless variety of stores and restaurants.
View All Homes For Sale In The Loop, Chicago >>>
Smaller Downtown Chicago Neighborhoods
Along with these four major areas in downtown Chicago, there are also several smaller Chicago neighborhoods worth mentioning.
West Loop
Also called the Near West Side, the West Loop Chicago has experienced rapid growth over the years. Yet, it has preserved its historic roots. This neighborhood lies west of the Loop, of course, and runs from I-290 on the south to Grand Avenue on the north. The West Loop is family-friendly, and many millennials, as well as older empty-nesters, have made it their home. There are many affordable housing options here, from single-family homes to multi-family dwellings.
In this part of the city, you will find the Fulton River District, Greektown, University Village, and Little Italy. West Loop Chicago also contains the Illinois Medical District, among the largest medical districts in the U.S. The United Center provides a home for the Chicago Bulls and the Chicago Blackhawks and plays host to many concerts and other large-scale events.
View All Homes For Sale In West Loop, Chicago >>>
South Loop
From its towering skyscrapers and impressive high-rises to its cozy single-family homes, South Loop Chicago offers nothing if not variety. You can find homes in a wide price range to suit nearly any budget.
Enjoy live blues music at Buddy Guy's Legends or spend the evening at a concert on Soldier Field. This neighborhood is also within walking distance of the lake, where you can enjoy scenic views, water sports, and cruises. What is more, the South Loop is convenient to the best shopping in the city.
View All Homes For Sale In South Loop, Chicago >>>
River West
What people tend to like most about River West is that it has the ideal location. While it offers close proximity to the city's best shopping, dining, and amenities, River West is separated just enough to have a more peaceful atmosphere.
The convenient access to everything downtown Chicago offers starts with its position as a crossroads, with several major roads going through the neighborhood. This is a bicycle-friendly community, and many people prefer walking or biking to driving.
Housing options include luxury apartments, lofts in converted industrial buildings, condos, and homes in many sizes and price ranges.
View All Homes For Sale In River West, Chicago >>>
Old Town
Situated just northwest of Gold Coast Chicago is the friendly neighborhood of Old Town. Its tree-lined streets give this community a gracious atmosphere, and it has many long-term residents. This is a charming neighborhood with Victorians, brownstones, and luxury high-rises. It is an area committed to the small business world, with plenty of local independent cafes, restaurants, and shops.

Old Town is known as the home of Second City and other comedy clubs. It has several fantastic parks, including Seward Park, Lincoln Park, and Hudson Chess Park. It is also a popular neighborhood for art festivals like the Wells Art Festival and the Old Town Art Fair.
View All Homes For Sale In Old Town, Chicago >>>
Amenities in Downtown Chicago
Moving to downtown Chicago may be your ideal choice if you love to shop. From quaint independent shops to high-end retail stores, you can find what you are looking for in the downtown Chicago neighborhoods.
The Magnificent Mile stretches for 13 blocks on North Michigan Avenue in downtown Chicago. It is the perfect place to complete your shopping quest. Within the Magnificent Mile, you will discover:
460 stores
60 hotels
275 restaurants
Theaters
Galleries
Sports
Comedy
Spas
Tours
Museums
Whether you are looking for shoes, clothing, jewelry, electronics, pet products, or luxury items, you will find them somewhere in this district. And with so many things to do, you can easily take a break from shopping to relax and unwind.

Other Downtown Shopping Options
Even beyond the Magnificent Mile, downtown Chicago neighborhoods have a bounty of shopping venues. Stop by the gift shops at the Art Institute of Chicago Museum or the Chicago Architecture Center for unique gifts. Eataly in River North carries cooking items imported from Italy. POSH has fascinating Parisian home decor. Florodora in South Loop Chicago has unique and vintage-themed items. If you are an avid reader, spend some time at Open Books, which donates its proceeds to fund literacy programs.
Education Options
Chicago features some of the best educational opportunities anywhere for children, teenagers, and adults. Whether you choose a public school or a private institution, learning is right around the corner.
Public K-12 Education
The Chicago School District serves all of downtown Chicago, and in fact, nearly all of the city. The graduation rate is relatively high for a city public school district, at 82.5%. The mission of this district is to provide student-centered education, promote academic achievement, and provide students with an environment where they are safely engaged in rewarding educational pursuits and extracurricular activities.
Private K-12 Education
If you prefer to give your children a private school experience, you can find many excellent choices in downtown Chicago. Offering the best in STEM, arts, and college prep, some of the top-rated private schools available to downtown Chicago kids include:
Chicago Colleges and Universities
Some of the finest universities in the country are located in or near downtown Chicago. Getting a degree at a school like Northwestern University, Loyola University, or Columbia College has both meaning and value. The University of Illinois at Chicago offers a large variety of degree programs.
Other colleges and universities in this area include:
Sightseeing and Activities
One of the nicest things about living in downtown Chicago is that, while you live in a bustling metropolis, you can also find spaces to relax and sights to see. Within the downtown neighborhoods, you can visit:
The Art Institute of Chicago
Millennium Park
Grant Park's Buckingham Fountain
The Museum Campus on the lakefront
Architecture tours
The Chicago Theatre District
The Tiffany Glass ceiling at Marshall Field's
Shedd Aquarium
Activities in Downtown Chicago
If you want to get out and move around, there are plenty of outdoor activities happening in downtown Chicago. Some of the attractions popular with those living in downtown Chicago include:
River cruises
Baseball games at Wrigley Field
Swimming and volleyball at North Avenue Beach
Biking on the Lakefront Trail or the 606
Kayaking through the skyscraper canyon
Watching fireworks from the Navy Pier
Riding jet skis or paddleboards to enjoy Lake Michigan

Downtown Restaurants
If you are moving to Chicago, you may be looking forward to sampling the city's best Chicago-style deep dish pizza. You can find it in many places downtown, including Pequod's Pizza, Pizano's Pizza & Pasta, and Rosati's Pizza in the Loop. However, pizza is just one of the many delectable dining options available here.
Notable restaurants in Gold Coast Chicago include:
Velvet Taco
3 Arts Club Cafe
For an active nightlife, enjoy the bar scene along Rush Street.
Streeterville Chicago has top-flight French dining at Les Nomades, succulent steaks at Rosebud Steakhouse, and excellent entrees at Francesca's on Chestnut. Go to Dublin 4 Irish Pub and Cafe or Timothy O'Toole's Pub, or stop at Gyu-Kaku Japanese BBQ for something beyond the ordinary.
Top restaurants in River North Chicago include Osteria Via Stato, which serves up the tastiest Italian dishes, while Gene & Georgetti takes the prize as the oldest steakhouse in Chicago. For outstanding cocktails and bar food, take a trip to the Broken Shaker, Good Measure, or the tiki bar at Three Dots and a Dash.
Dining options galore await those moving to downtown Chicago in the Loop. The Chicago Riverwalk restaurants offer a variety of cuisines and range from casual to fine dining. Grant Park Bistro, Italian Village, Wildberry Pancakes and Cafe, and the Dearborn offer excellent foods from the Midwest and around the world.


Living in Downtown Chicago Has It All!
No matter what your interests and preferences, you will always find something to delight you when living in downtown Chicago. Maybe that is why so many people are moving to downtown Chicago these days. After all, where else can you find something for everyone, and all of it within an easy walk or drive?
The homes in Chicago's downtown neighborhoods range from cozy and affordable to extravagant and upscale. Choose from bustling city streets to quiet, peaceful spaces. Wherever you decide to live, you will have unlimited opportunities to enjoy the best of the Midwest.
Finally, this area offers so many diversions, education options, and restaurant choices that you can do and enjoy whatever suits you. Whether your main goal in life is to relax, pursue a degree, or advance your career, you can easily work toward it when you are living in downtown Chicago. In this beautiful area, the future is yours, the time is right, and this outstanding slice of city life is waiting for you to claim it.
All Homes For Sale In Downtown Chicago